---
Latest News

---
December 6, 2022
Please note that WinSim Inc. will be closed on the following days ... More

September 5, 2022
Please note that we do not sell SIM cards in Germany... More

August 29, 2022
Version 16.15 of DESIGN II for Windows is available... More

March 18, 2022
Mr. Alfonso Cano will be attending the GCA Expo and Conference 2022... More

September 16, 2021
The documentation for DESIGN II for Windows has been updated... More

January 19, 2021
Updated the tutorial... More

February 18, 2020
The DESIGN II for Windows brochure has been updated... More

September 17, 2018
Free introductory training is available on Friday, November 2, 2018 in ... More

May 29, 2018
We have a new GDPR compliant privacy notice ... More

March 3, 2017
Please fill out the DESIGN II for Windows survey... More

November 21, 2016
WinSim is seeking a Project Sales Engineer ... More

November 21, 2012
WinSim is seeking Resellers for International Markets ... More




WinSim's Link2WinSim Process Simulation Solution
Component Physical Properties
Thermodynamics
Calculations
Any Stream or Unit Model Calculations and Results

What is Link2WinSim?
Link2WinSim allows anyone to embed the powerful capabilities of one of the most advanced process simulation companies in the world in their proprietary software. Link2WinSim can help you enhance the capabilities of your proprietary software package or quickly enable the decision making of your field personnel.
What are typical applications for Link2WinSim?
Examples of typical applications include upgrading Original Equipment Manufacturer's (OEM) sizing and rating software packages with physical properties and thermo options. Automating calculations for non-engineering or field sales personnel with a MS Excel interface is another typical application. If you have a potential application you would like to discuss, please contact us to learn more.
How can you Link2WinSim?
You can access Link2WinSim by using Microsoft Excel's Visual Basic (VB) interface. VB and Visual C++ are the programming languages most commonly used to access Link2WinSim, but you can also use any software package that can call a Dynamic Link Library (DLL).
What is included in Link2WinSim?
Component Physical Properties
Over 1,200 pure components included. Some of the properties included are: Cp, Cv, Enthalpy, Entropy, Bubble Pt, Dew Pt, Compressibility, etc.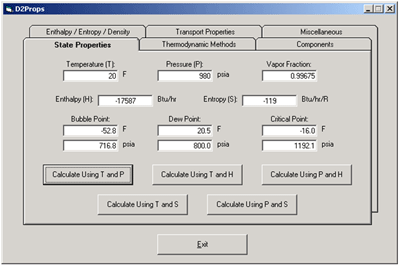 Thermodynamics
Over 60 thermodynamic equations of state are available. You can Link2WinSim Thermo for K Values, Enthalpy, Viscosity, Thermal Conductivity, and Surface Tension. Bubble and Dew Points for mixtures and hydrate predictions are easily determined. Phase envelopes and maps are easy to generate.
Here are the different thermodynamic methods currently available:
Hydrocarbon K-value and Enthalpy Methods
API Soave, BWR (Benedict-Webb-Rubin), BWRS (Benedict-Webb-Rubin-Starling), DMPEGK, Esso (Maxwell-Bonnell), GERG 2004, GERG 2008, Grayson-Johnson (API), Kent-Eisenberg (Mixed Amines), LKP (Lee-Kesler-Ploecker), NIST RefProp, Peng-Robinson, Peng-Robinson-Stryjek, Predictive Peng-Robinson, RK (Redlich-Kwong), Soave (Soave-Redlich-Kwong), Steam Tables, SKD (Soave-Kabadi-Danner) and tabular k-values.
Chemical K-value and Enthalpy Methods
Sour Water API, Edwards, Edwards Sour, Henry's Gas Law, Ideal Vapor, MEA or DEA, NRTL (Renon), Solids, UNIFAC, UNIQUAC, Vapor Pressure and Wilson.
Density Methods
AGA, API Soave, BWR, BWRS, Corresponding States, COSTALD, GERG 2004, GERG 2008, Ideal, Lee-Kesler-Ploeker, Mixed Amines, Modified Peng-Robinson, NIST RefProp, Peng-Robinson, Redlich-Kwong, Soave, Soave-Kabadi-Danner, Soave-Redlich-Kwong and Yen-Woods (Std).
Viscosity Methods
API, Dean and Stiel, LN Average, NBS81, Twu, Mod API, Mixed Amines and NIST RefProp.
Thermal Conductivity Methods
API, C. C. Li, LN Average, NBS81, Mixed Amines, NIST RefProp, TEMA 68 and 78.
Surface Tension Methods
API, Molar Average, Mixed Amines and NIST RefProp.
Calculations
Flash (two phase, three phase), towers, hydraulics, pressure changes, etc. All the important calculations you need are available with WinSim's tried and true methodology.
How can you learn more about Link2WinSim?
WinSim has complete expert level technical support for both programming and engineering calculations. Please contact WinSim for more information at (281) 545-9200 x104 or sales@winsim.com